Stock collection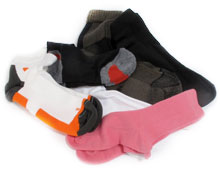 In order to offer the best possible service to our customers, we also have a stock collection of socks. We have chosen to stock our products in four different categories: Light, Mid, Heavy och Medical. Light is a thinner sock, Mid is a slightly thicker sock in technical and functional materials, Heavy is a warmer functional sock and Medical is a sock that improves blood circulation, prevents swelling and discomfort while travelling or sitting still.
It is not possible to add a logo to the socks in our stock collection.
Do not hesitate to contact us if you have questions regarding our stock collection. We are looking forward to assist you in finding the perfect sock that ticks all your requirements.
Light
Item no.
Product
Quality
Size
Colour
CS9651

Thin cotton sock with ventilation channels. Ankle support, ribbed shaft and smooth knit sole.
80 % Cotton,
15 % Polyamide,
5 % Lycra
34/36-46/48
White, black and navy
CS9661

Exclusive – Extra thin cotton sock with ventilation channels. Ankle support, ribbed shaft and smooth knit sole.
80 % Cotton,
15 % Polyamide,
5 % Lycra
37/39-46/48
Black and navy
247

Thin sock made of merino wool. 3:1 ribbed shaft and inset and smooth knit sole.
71 % Wool,
21 % Polyamide,
8 % Lycra
37/39-46/48
22/24-46/48
Black
8065

Thin, plain elastic sock made of merino wool. Ankle support for optimal fit. Because wool regulates temperature the sock can be used all year round, in cold conditions or as an extra layer under a thicker sock.
80 % Wool,
15 % Polyamide,
5 % Lycra
34/36-46/48
Black
8077

Thin ankle sock in polyester with airy instep fabric. Features maximal moisture transportation and perfect fit.
80 % Polyester,
17 % Polyamide,
3 % Lycra
34/36-43/45
Black and white
8067

Thin polyester sock with ankle support and ventilation channels.
80 % Polyester,
15 % Polyamide,
5 % Lycra
34/36-46/48
Black
Mid
Article no.
Product
Quality
Size
Colour
8069

Cool Coolmax sock, Cordura reinforced sole. Ankle support, malleolus protection and "anatomical design" for right and left foot.
52 % Coolmax,
26 % Cordura,
18 % Polyamide,
4 % Lycra
37/39-46/48
Black
E30400

Terry wool sock. 400 grams. Ribbed shaft, terry sole and polyamide on the outside improve the durability.
73 % Wool,
26 % Polyamide,
1 % Lycra
37/39-46/48
Black
8071

Medium thick Coolmax sock with felt wool reinforced heel and toes. Terry sole, airy instep fabric and extra durable pads.
60 % Coolmax,
20 % Wool,
16 % Polyamide,
2 % Lycra
37/39–46/48
Black
8072

Tactel sock with efficient moisture transportation. Airy instep fabric and heel and toe are reinforced with polypropylene terry. Body of the sock is made of Lycra for good fit.
35 % Tactel,
35 % Polypropylen,
26 % Polyamide,
4 % Lycra
37/39-46/48
Black/grey and white/grey
8353

Cotton ankle sock with terry sole. Ventilation channels, optimal fit and minimal toe seam.
80 % Cotton,
15 % Polyamide,
5 % Lycra
37/39-43/45
White and black
CS9652

Cotton sock with terry reinforced sole and ventilation channels on instep.
80 % Cotton,
15 % Polyamide,
5 % Lycra
34/36-46/48
Black, navy, white
Heavy
Item no.
Product
Quality
Size
Colour
E30600

Terry wool sock, 600 grams. Ribbed shaft, body made of terry and the outside of polyamide for improved durability.
72 % Ull, 28 % Polyamid
34/36-46/48
Black
8061

Warm terry sock. Durable sole reinforced with Cordura and ankle support.
77 % Wool,
11 % Polyamide,
9 % Cordura, 3 % Lycra
37/39-46/48
Green/black
8073

Thick warm sock. Extra reinforced heel and toes. Ankle support for optimal fit and the body made of lycra for good fit.
30 % Wool, 50 % Acrylic,
17 % Polyamide,
3 % Lycra
34/36-46/48
Anthracite/black
8057

Terry wool sock with excellent heat insulation.
80 % Wool,
20 % Polyamide
37/39-46/48
Grey mélange
CS7028

Warm technical boot sock. Extra reinforced heel and toes. High level of durability and ankle support for optimal fit. Suitable when wearing wellies.
80 % Wool,
18 % Polyamide,
2 % Lycra
19/21-37/39
Anthracite/black
Medical
Item no.
Product
Quality
Size
Colour
8076

Sock with ankle support, extra reinforced ankle, heel, toe and pad. Airy instep fabric.
50 % Tactel,
35 % Polyamide,
15 % Lycra
34/36-46/48
Black/grey
S5020

Travel sock that prevents swelling and discomfort when travelling. Contributes to better blood circulation. Compression 10-12 mmHG.
69 % Cotton, 24 % Nylon,
7 % Lycra
37/39-46/48
Black, white
M5030

Diabetes sock with thin sole for hot days. The material regulates temperature and stimulates blood circulation. Loose-fitting shaft. Anti-static and anti-bacterial.
54 % Cotton, 6 % X-Static,
24 % Polyamide,
16 % Lycra
34/36-46/48
Black
M5035

Diabetes sock with terry sole for cold days. The material regulates temperature and stimulates blood circulation. Loose-fitting shaft. Anti-static and anti-bacterial.
67 % Cotton, 4 % X-Static,
17 % Polyamide,
12 % Lycra
34/36-46/48
Black
M5040

Wool sock with loose elasticity for warm days. Ankle support, ventilation channels and thin sole.
74 % Cotton,
22 % Polyamide,
4 % Lycra
34/36-46/48
Black and navy
M5045

Wool sock with loose elasticity for cold days. Ankle support, ventilation channels and terry sole.
67 % Wool,
30 % Polyamide,
3 % Lycra
34/36-46/48
Black and light grey
M5090

Medical non slip sock. A comfortable sock with slip protection.
80 % Cotton,
5 % Polyamide,
15 % Lycra
34/36-43/45
Black and navy
Other
Item no.
Product
Quality
Size
Colour
0755

Sockiplast is a classic sock with comfortable terry knit insole and plastic reinforcement for a perfect non-skid result. Perfect for use in swimming and gymnastics.
70 % Cotton,
30 % Polyamide
24-45
White and navy