Concept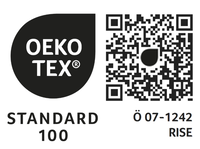 Cansocks offers you high quality socks. By choosing the best materials and functions we make sure that you will receive the best possible product. Certainly, all our products are certified according to the globally uniform testing and certification system, Oeko-Tex standard 100. We have chosen to present our socks in three different categories.
The term Light is a thinner sock, Mid is a slightly thicker sock made of technical and functional materials and Heavy is a warm functional sock. All models are made in sizes 34/36, 37/39, 40/42, 43/45, 46/48.
How the sock will look in the end is up to you, as you choose a personal lettering/logo that we stitch on to the sock. Choose your sock from a number of models, qualities and colours. Send us an outline of your choice and attach a logo (original) and we will get back to you with suggestions. You confirm which design you prefer before we start the production process. To ensure a quick handling, send your outline and logo to cansocks@cansocks.se
You are welcome to contact us at any time for further information.